If A film makes it on this website, rest assure, I hold it with great respect, admiration and love. This film on the other hand I hate...that I haven't dedicated an entire website so everyone can marvel upon. This film is simply without a doubt spectacular. This story, written by David Mamet, (Screenplay; The Untouchables, Wag the Dog, Ronin) is made for those under the stress and pressures of work. An all-star cast, which in this case is an all star, along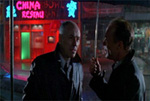 with brilliant directing and inexpressable dialogue. Everything the avid film lover desires. It starts with Shelley 'the machine' Levine perfectly adapted by Jack Lemmon (12 Angry Men, JFK) struggling to make a sale. For this cast is a group of men trying to sell real estate. Pointless Trivia: Jack Lemmon's character was also established on The Simpsons. Groening was obviously impressed so after watching Glengarry, Gil was born. Dave Moss violently created by Ed Harris (The Rock, Enemy at the Gates, Just Cause, The Truman Show) with his volatile temper and aggression is also having a hard time dealing with 'these deadbeat leads" from the 'nostalgia file.' Once confronted by the most memorable character, Blake with a short and unforgettable performance by Alec Baldwin (The Royal Tenenbaums, Clerks' Uncensored, Beetlejuice, Talk Radio) He is sent from another firm,


Mitch & Murray to inform these 'losers' that out of the five salesman, the three that don't make it in the top two, are fired. Read about them here. They receive no help from their cold boss John Williamson performed by a personal favorite Kevin Spacey (L.A. Confidential, The Big Kahuna, Se7en, American Beauty, The Usual Suspects, The Negotiator) With no concern for their well being and unwilling to give them the good leads, the Glengarry leads, he leaves them to fend for themselves. George Aaronow play by Alan Arkin (Grosse Point Blank, So I Married An Axe Murderer, Edward Scissorhands) is also alongside the struggling salesman. All but one, the charismatic, charming, hilarious Ricky Roma created by the god of acting, Al Pacino (...And Justice for All, The Godfather, Part II, Part III, Dog Day Afternoon, Scarface, Devil's Advocate, Carlitto's Way) The top name on the board, 'sitting on top of the world' has nothing to worry about. The plot thickens when the office was robbed and the Glengarry Leads were stolen along with the phones. Roma, desperate to get his bonus, Levine, desperate to not get fired,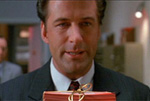 Moss, trying to keep his cool, Aaronow, hoping he still has the skill and Williamson trying to get everything together, all in a day's work. This movie has everything for those of distinguished taste. Like swearing, everyone loves swearing. The title was jokingly referred to as "Death of a Fuckin' Salesman." Each actor giving an amazing performance and like I stated, Alec Baldwin was at his peak on this role, he definitely had this character mastered. After viewing this film I wanted more because it's such a genius film. I highly recommend this to those who can sit and watch a movie with mainly arguing, talking, bartering and swearing. Those expecting explosions; stick to Rollerball. This movie quickly climbed my favourite charts, and the quotes, I mean the quotes, it never ends, I should go to lunch.